The Best of Your Past Is the Boost To Your Future.
"Then David chose five smooth stones from the stream."
1 Samuel 17:40 NIV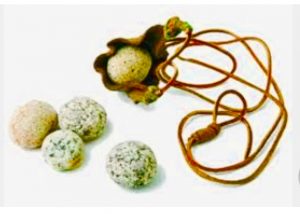 My thoughts and comments today are about, "whatever it takes."
Who doesn't enjoy the story of David and Goliath. Read 1 Samuel 17:45-51 NKJ. Against all odds, David achieved a monumental victory. Who doesn't love a story like that? Would you be helped if you knew what David knew? Well, actually you can. It would be easier if there were just one secret that could be uncovered and applied. Presto, and like magic you could have every success that you ever wanted. But life doesn't work that way, does it? There is no single key to success, but there are practical elements for victory and achievement.
The Bible records the story of a young, shepherd boy and his encounter with a fearsome, angry warrior of giant stature. And then the Bible adds a small and seemingly irrelevant detail, except it is not. "Then David chose five smooth stones from the stream." 1 Samuel 17:40 NIV. Let me share five truths that accomplish victories.
The first truth. Remember every victory. Let the best of your past be the boost for your future. David reasoned, "God who delivered me from the lion and the bear will deliver me from this Philistine." 1 Samuel 17:37.  Different situation. Same God. Be careful, your focus may well determine your direction and expectation; make sure those move you upward and onward.
The second truth. Celebrate every victory, no matter how small, and use it as a confidence booster for the future. Read Psalm 78:1-7 NIV. And never forget your previous successes, so you can be encouraged and build on them. Understanding those is key to not repeating the same mistakes.  People are usually prone to do just the opposite. Never dwell on your failures, except to learn from them.
Do not  allow a previous or momentary disappointment to discourage you from trying again. You may find yourself recalling every painful and trivial detail of past failures, while discounting every triumph God helped you to achieve. Rehearsing disappointments and failures over and over will not alter them. Remembering past victories strengthens expectation and reinforces resolve.
The third truth. Concern yourself with God's honor more than your reputation. Like everything else in your life, success is not about you, nor your enrichment or acclaim. Success occurs when you bring glory to God's name and nature. David declared to Goliath, "I come to you in the Name of the Lord Almighty, the God of the armies of Israel whom you have defied." See 1 Samuel 17:45-47.
The fourth truth. Success does not come to those content to watch from the sidelines. See 1 Samuel 17:24-25. When others would not, David was willing to join the battle. He was impassioned even indignant, "Who is this that he is allowed to defy the armies of the living God?. . Is there not a cause?" See 1 Samuel 17:26/29. He became personally involved. Success does not come to you until you set yourself for success.
The fifth truth. Never give up short of your goal or God's promise. I have read this statement, "Success is about 10% ability and good fortune, and about 90% perseverance." You have what it takes, and God will give you what you need, when you persevere. Someone has observed, "It seems that the harder I work, the more fortunate I become." What often seems like an overnight success story usually involves a history of effort, assurance, and especially perseverance.
Ever wondered why David selected five stones, or why the Holy Spirit included that seemingly irrelevant reference? Apart from God and against a fearsome giant, five stones are not all that more confidence building than just one. The Bible does not really answer that question for you, which allows me to consider why David might have done that. Here is my assumption. If you are serious about succeeding, you will choose more than one way to accomplish your success.
Choose the attitude that says, "Whatever it takes!" Maybe David chose five stones because he didn't know which stone God would direct to its mark. He just knew that Goliath was no match for his God. David gave God whatever he had at his disposal, with persuasion that God would take care of the Goliath in his path. Your God will do the same for the obstructions in your path.
Today I pray for you to know God has everything you need for victory.
Christian Communications 2018-(09507 keys to success)
Website and archives: allenrandolph.com
facebook.com/everydaylife.allenrandolph