Life is a quest for fulfillment.
"I am going there to prepare a place for you." John 14:2 NIV.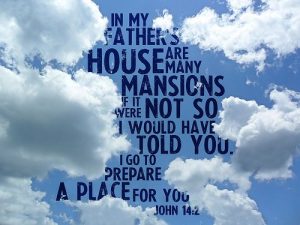 My thoughts and comments today are about,
"right things but wrong places."
Lives are spent looking for something, often without knowing what that something is or where that could be found. The award-winning musical, West Side Story, has a lovely song, Somewhere, by Leonard Bernstein and Stephen Sondheim, in which the star-crossed lovers, Tony and Maria, sing, There's a place for us. Somewhere a place for us, Peace and quiet and open air, Wait for us, somewhere . . somehow, some day, somewhere! Those lyrics voiced a generation's search, maybe the yearning and quest of every heart.
Some people look for safety in a place free from fear or danger, or for the promise of success with the recognition or independence that provides, or for comfort in a place free from stress or striving. Nobly, others look for meaning through a place of service and contribution where their life could make others' lives better. Every satisfaction begins with a right relationship with God.
Everyone is looking for something, or someone, to make their life full and satisfying. Purpose and meaning is what gets you up in the morning, motivates you to give your best, and keeps you going when you feel like quitting. Life is a quest, a search for personal fulfillment and completion.
Some squander their lifetime looking for the right things in the wrong places, or looking for the wrong things altogether. Those individuals' philosophy could be summed up in these words; "There is no place anything like this place anywhere near this place, so this must be the place." Don't settle for lesser things. Too many people settle for the next best thing. They finally accept what comes the closest to their search. But is close ever good enough, especially when that involves eternity?
What are you looking for? Everything you do – your goals, choices, relationships, efforts, sacrifices – are ultimately motivated by the object of your search. Wouldn't it be better to know what that is, or what it should be? I would suggest that this common, lifelong quest is a spiritual longing for where it all began. God created the first man and woman to have a personal, intimate relationship with their Creator, placed them in a perfect Garden, assigned them productive and meaningful service, and provided them with pleasant companionship. See Genesis 2 NKJV. Would you agree with me that everything else pales in comparison with that?
Here is how this relates to you and me. Jesus said that throughout your lifetime He would be busy preparing such a place just for you, but you will never find it here and you will never find it on your own. Such a place is found in Christ alone.
Jesus explicitly promised a place for you, "In My Father's house are many places; if it were not so, I would have told you, for I go to prepare a place for you. If I go, I will come again and receive you to Myself, that where I am you may be also. And you know the way to where I am going . . I am the Way, the Truth, and the Life. No one comes to the Father but through Me." John 14:2-6 NAS. See also John 3:16-21 NLT/ Romans 10:9-10 NLT. That is quite a promise, and a sobering reality, and reliably true. Our lives and future are ever secure in His hands.
Deep in the heart of every man and woman there is an innate sense that the wrong place at the end of life is to be forever separated from God. If that separation is true now, it will remain true then. God put that truth deep in your spirit, so you would not waste your lifetime searching for the wrong things in the wrong places. All you need or will ever desire will only be found in Jesus.
Today I pray for you to find your place in Christ Jesus and be fully at home.
Christian Communications 2018 -10309
Website and archives: allenrandolph.com
facebook.com/everydaylife.allenrandolph