Joy releases rejoicing. Rejoicing increases joy.
"I bring you good tidings of great joy." Luke 2:10 NKJV.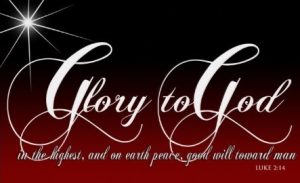 My comments today are about, "The season of joy."
For many years, our congregational welcome of the Christmas season has been with exuberant joy, expressed in the Christmas hymn, "Joy to the World; the Lord is come; let earth receive her King. Let every heart prepare Him room; and Heaven and nature sing . . He rules the earth with truth and grace, and makes the nations prove, the glories of his righteousness and wonders of His love."
My conviction is this. Your entrance and access to all the other good things associated with Christmas, rests in your personal discovery and expression of abounding joy. The celebration of His birth brings new and exceeding joy into hearts and lives anew. You choose to respond by express His joy by rejoicing. In fact, any Godly observance of the season that does not begin with and continue in unrestrained rejoicing is inadequate and unworthy of the One we celebrate. Peter describes such joy as being, "filled with an inexpressible and glorious joy." See 1 Peter 1:3-9 NIV.
So many generations had yearned to hear Heaven's pronouncement, Messiah had come! At the time the Father had chosen, an Angel of the Lord announced Jesus' birth to shepherds, declaring, "Behold, I bring you good tidings of great joy which will be to all people. For there is born to you this day in the city of David, a Savior, who is Christ the Lord." The joy God brings is qualified as excelling. It is, "great joy!"
At such news, Heaven's joy could no longer be restrained, "Suddenly there was with the angel a multitude of the heavenly host praising God and saying: 'Glory to God in the highest and on earth peace, goodwill toward men.'" Read Luke 2:8-14 NKJV.
As a holiday, the Christmas season and celebration have become too commercial many things that it needs not be. But as the birth of the Savior, one thing Christmas absolutely must be, is celebrated with exuberant rejoicing, defined as, "joyously unrestrained and enthusiastic." Joy is your choice; rejoicing is your expression. Joy abides within every redeemed person, sovereignly placed there by your Creator. The Bible is clear. Included among the many attributes of the Spirit of God is this, "The fruit of the Spirit is joy." Galatians 5:22 NKJV.
Rejoicing is an outwardly visible expression of inner joy which may become wrongly influenced by momentary circumstances. But real joy, God given and resident in one's heart and spirit, can rest untouched by circumstances of the moment. Paul describes such a moment, "The grace of God bestowed on the churches of Macedonia: that in a great trial of affliction the abundance of their joy and deep poverty abounded in the riches of their liberality." 2 Corinthians 8:2 NKJV. Abundant joy. Abounding liberality. Both await the one who fully embraces the grace of God.
Peter affirms the same truth, "Do not think it strange concerning the fiery trial which is to try you, as though some strange thing happened to you; but rejoice . . [that] you may be glad with exceeding joy." 1 Peter 4:12-13 NKJV. Don't be deceived by the feelings of a current situation. The emotions of pain and disappointment may seem to dampen joy, but only momentarily. If God is in you, His joy is in you as well. "For the joy of the Lord is your strength." Nehemiah 8:10 NIV.
Here is the truth about joy and rejoicing. Joy is found in God. Rejoicing is expressed at your own initiative. Joy releases rejoicing. Rejoicing increases joy. Rejoicing, like faith or the giving of thanks, is an act of a sanctified will, independent of emotions or situation. This is the way that works. The greater your joy, the greater your rejoicing. Joy expresses rejoicing. Rejoicing expands joy. God gave you the power to renew and release joy.
Today I pray for you to choose joy!
Joy to the world, the Lord has come . . let Heaven and nature sing!

Christian Communications 2018
Website and archives: allenrandolph.com
facebook.com/everydaylife.allenrandolph