A Person or Nation Without God is Without a Destiny.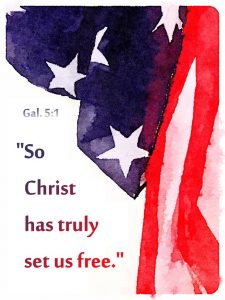 "It is for freedom that Christ has set us free." Galatians 5:1 NIV.
My thoughts and comments today are about, "Freed to be Free."
As the United States celebrates our founding as a nation this week, it seems appropriate to remember that we have pledged ourselves to be, "One Nation, under God, indivisible, with liberty and justice for all." Lately, we have not done so well on the, "One nation under God [and] indivisible," parts.
If those words become just rhetoric rather than authentic conviction, we will have far less to celebrate and much more to regret. The current climate of political and social discourse has created a growing and worrisome gulf between the secular and religious that should be a warning of concern. If we do not do better, we will owe God an apology and our founding Fathers an explanation.
Our nation without God would become a nation without a destiny, lacking the power of conviction to achieve its destiny. Yet there is an even greater truth that I choose to celebrate, the freedom that we have been given in Christ Jesus. Our Sovereign God promises, "If my people, who are called by My name, will humble themselves and pray, and seek My face, and turn from their wicked ways, then will I hear from Heaven and will forgive their sin and will heal their land." 2 Chronicles 7:14-15 NIV.
The Apostle Paul wrote much about freedom and liberty while living under a Roman government that ruled by power and force, allowing only marginal liberty. To the young and often struggling church, Paul wrote much about the freedom and liberty that is found in Christ.
These past days, one Scripture in particular has occupied my thoughts and is my cause for reflection and rejoicing. "It is for freedom that Christ has set us free. Stand firm then, and do not let yourselves be burdened again by the yoke of slavery." Galatians 5:1 NIV. Four crucial truths are evident in that verse and its surrounding context – God's initiative in Christ, The Holy Spirit's objective, your destiny, and your resolve.
(1). INITIATIVE. The redemptive truth of Jesus Christ is this, "Christ has set us free." Every good initiative begins in God's heart. James understood that, "Every good and perfect gift is from above, coming down from the Father of the heavenly lights, Who does not change like shifting shadows. He chose to give us birth through the Word of truth, that we might be a kind of firstfruits of all He created."  James 1:17-18 NIV.
In the purpose of God, you were set free long before you knew you needed or wanted a Savior. "God demonstrates His own love toward us, in that while we were still sinners, Christ died for us." Romans 5:8-9 NKJ. Everything has changed. You are unshackled from your past. You are redeemed, no longer a slave to sin and self.
(2). OBJECTIVE. "It is FOR FREEDOM that Christ has set us free." Our freedom has always been God's objective. In Christ, God purposed absolute freedom for all who would embrace the Savior. Christ's objective was, and remains to be, an all inclusive and enduring freedom. Freedom from your past. Freedom now and freedom throughout your future, with an eternity with Christ and others forever.
 (3). DESTINY. "Stand firm then." You have a responsibility to stay free, and in the power of the Holy Spirit you are given the ability to live free. Freedom in Christ means much more than forgiveness for your past, or grace in this moment. Freedom is His abiding destiny for your future as well, the promise that you need never be without grace. His grace is ever sufficient. Consider Paul's words, "This means that those who become Christians become new persons. They are not the same anymore, for the old life is gone. A new life has begun!" 2 Corinthians 5:17 NLT.
(4). RESOLUTE. "Do not let yourselves be burdened again by the yoke of slavery." Galatians 5:1 NIV. You are free from your history, free from your hurts, free from your weaknesses, free from your failures, free from your regrets, and finally free to embrace your life in Christ and His fullness. "To all who received Him, to those who believed in His name, He gave the right to become children of God." John 1:12 NIV.
The last word: "Be sober, be vigilant; because your adversary the devil walks about like a roaring lion, seeking whom he may devour. Resist him, steadfast in the faith."1 Peter 5:8-9 NKJ.
Today I pray for you to comprehend all that has been given you.
Christian Communications 2018
Website and archives: allenrandolph.com