FREE FROM FEAR
"He who dwells in the secret place of the Most High
Shall abide under the shadow of the Almighty." Psalm 91:1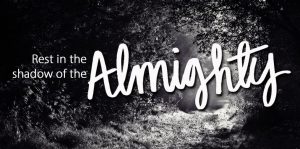 7A thousand may fall at your side, And ten thousand at your right hand; But it shall not come near you.
8 Only with your eyes shall you look,
And see the punishment of the wicked." Psalm 91:7-8
My thoughts today are about being, "Near to danger but far from harm"
I have observed a simple fact. There are many hurting people. Furthermore, that is   compounded by this reality. Hurting people hurt other people. The world around you can seem unsafe. And more than seeming to be unsafe and hurtful, the world is. In such a world, I would not want to live apart from my persuasion and conviction of a loving and all-powerful God.
Psalm 91 rests on the sure foundation of the loving God and His righteous character and your abiding in His love and truth, as you, "dwell in the secret place of the Most High, Who alone is Almighty." Yet a reality remains. Around you is a fallen world of hurting,  wounded people when at times it appears, "7A thousand may fall at your side, and ten thousand at your right hand." That is a lot of chaos way too close to home.
I love the Psalmist's absolute assertion that follows. 7"But it shall not come near you. 8Only with your eyes shall you look and see the punishment of the wicked." You do not want to be found among the wicked. Safe in Christ, you can look at the fear around you and be afraid, or you can look to your faithful God and live free of fear.
Fear and love are incompatible. Either holds the power to negate the other. I find this familiar Bible verse comforting. "Love has no fear because perfect love expels all fear. If we are afraid . . this shows that we have not fully experienced His perfect love." 1 John 4:18 NLT.
Your life in Christ can be described as, living near to danger yet far from harm. 3"When I am afraid, I put my trust in You. 4 In God, Whose word I praise – in God I trust and am not afraid. What can mere mortals do to me? Psalm 56:3-4 NIV.
There is a day when all wrongs will be righted, righteousness will be rewarded, and sin will be judged. The Bible says that we see with limitations now. Therefore, we have incomplete knowledge and limited understanding. Still, you can live free from fear.
Paul explained to the Christians in Corinth, "For now, we see in a mirror, dimly, but then face to face. Now I know in part, but then I shall know just as I also am known [by God]." 1 Corinthians 12:13 NKJ. There will come a promised day when you will have abounding knowledge, abundant understanding, and abiding peace.
My prayer for you today is to trust God completely and rest in His love.
EDL Communications 2020
Website and Archives: allenrandolph.com
Facebook.com/everydaylife.allenrandolph