Example Provides the Power for Persuasion.
"Christ, Who suffered for you, is your example. Follow in His steps." 1 Peter 2:21 NLT.
My thoughts and comments today ask a question,
"Are You An Example Or Exception?"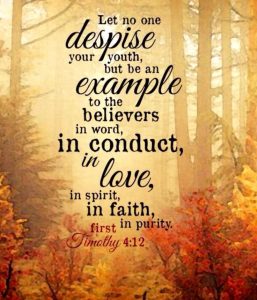 When I was a young man preparing for ministry, my Dad gave me invaluable advice for success. His wise counsel applies to all areas of life and leadership. Out of his own experience and personal example, my Dad taught me practical wisdom for every day life. It was simple enough that I have recalled his words for more than fifty years.
He said, "Never ask or expect others to go where you have not gone, nor expect someone to do what you have not been willing to do, nor expect anyone to give what you are not willing to give." "Do as I say," never works as well as, "Do as I do." Think about this for a moment. Example provides the power for persuasion.
Jesus is the best example. He sacrificed much more than He requires of you and me. To those who wanted to know how to live well, He kept it basic. He simply said, "Follow Me." Anyone can do that if they want to do so. To be an effective leader of people, you must first be an example of what you expect of others. To be influential, you must be an example.
As Jesus washed the feet of the disciples in the night before His sacrifice, He established a pattern for theirs and our service and sacrifice for others and toward one another, "I have given you an example, that you should do as I have done for you." Read John 13:15-17 NKJ. For a moment, think about Jesus' example and yours.
Whether talking about parenting, relationships, business dealings, or any arena that requires leadership, your involvement should be exemplary and inspiring to others, whether big or small. Many years later Peter wrote of Jesus' example,"Christ, who suffered for you, is your example. Follow in His steps." 1 Peter 2:21 NLT.
The Apostle Paul was direct, "And let us not grow weary while doing good, for in due season we shall reap if we do not lose heart. Therefore, as we have opportunity, let us do good to all, especially to those who are of the household of faith." Galatians 6:9-10 NKJ. For the times when you grow weary and people seem to take your kindness for granted, remember the Bible's counsel to keep your eyes on Jesus, "Consider Jesus who endured such opposition from sinful men, so that you will not grow weary and lose heart." Hebrews 12:3 NIV. Jesus' example always inspires. Yours should do the same.
The Bible's intention is about your living a holy consistency of life before God and others. Let's be practical about this: doing the least you can neither produces the satisfaction you seek nor the expected result in others' lives. God asks you to be an example while never allowing yourself to be an exception, giving up your right to make excuses and not expecting more of others than you require of yourself.
Your Biblical responsibility and God's expectation of you is this: "Be an example to all believers in what you teach, in the way you live, in your love, your faith, and your purity." 1 Timothy 4:12 NLT. Being an example is good; excusing yourself to be an exception to that is not.
Today I pray for you to live a life that glorifies God and edifies others.
Christian Communications 2018
Website and archives: allenrandolph.com
facebook.com/everydaylife.allenrandolph
Devotionals 1 Peter 2:21, advice, Dad, edifies others, example, exception, follow Me, Galatians 6:9-10, glorifies God, Hebrews 12:3, i Timothy 4:12, influential, John 13-15, leadership, persuasion, wiadom