Doing all you can requires using all you have.
"God has given each of us the ability to do certain things well." Romans 12:6 NLT.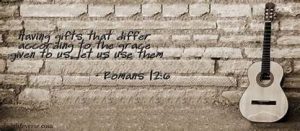 My thoughts and comments today are, "use what you have."
It is easy to imagine all the wonderful things you could do, if only you had more to work with. Ever felt that way? More of what? More opportunities? More help? More resources? More education? More skills? More experience? More advantages? Fewer challenges? Less difficulties? The list is endless and excuses continuous, while successes remain unaccomplished.
You have more than you realize. You have more than you use. Use what you have. Doing all you can first requires using all you have. It's simple really. Inventory what you have rather than what you lack. Then God will provide what you need. Paul was confident, "And my God will meet all your needs according to His glorious riches in Christ Jesus." Philippians 4:19 NIV.
The Bible is a reliable history of God at work through His people. God's Word is filled with people and instances when they used what they had and God did what they could not have done alone. Everyone loves the story of David and Goliath. David had only a shepherd's sling and God beside him. That was enough. King Saul tried to equip him with his own armor, helmet, and sword. See 1 Samuel 17:36-49 NKJ. What you don't have is not the issue. In God, what you do have is enough.
The Bible spotlights individuals that rose out of obscurity to achieve something others did not dare to try. Have you ever heard of Shamgar? Probably not. His name appears only twice in the Bible, and very little is known about him, except his name, his origin, and the very difficult national and personal times in which he lived. See Judges 5:6-8 NKJ.
Danger and desperation made daily life difficult. Israel's men were disarmed and defenseless. Because of his fearless exploits, his fame was included in people's songs and Israel's oral history years later. What did he do? Well, first consider what he did not do. He did not dismiss the possibility of courage against unimaginable opposition by first calculating the odds and then doing nothing at all. But here's what Shamgar did. Single-handedly, "Shamgar struck down six hundred Philistines with an ox goad. He too saved Israel." Judges 3:31 NIV. One man, unarmed, against six hundred seasoned Philistine warriors.
He used what he had, a common ox goad, just a wooden stick tipped with bronze that a farmer used to prod his work animals. A simple ox goad was enough for God to provide a decisive victory. A common farm utensil was not much at all, except in the hands of a determined and courageous farmer, whose valor brought about a rousing victory that emboldened the heart of a nation to stand bravely and proudly against its enemy.
An unusual story? Yes, but not an uncommon one in the Bible. Has God changed from Shamgar's time and yours. He is, "the same yesterday and forever." Does His story sound familiar to you, like Moses and a shepherd's staff, or Gideon and his trumpet, or Samson and a jawbone, or David and a slingshot, or a boy with a small lunch of bread and fish? God's story is about using ordinary people in extraordinary ways, when they choose to use what they have for God's purposes and glory.
You may not have what you need; you may not have everything you want; you may not have what others have. He does not promise all your wants, but He does promise all your needs. Trust Him to know the difference when you do not. You have something that God can use.
"God has given each of us the ability to do certain things well. So if God has given you the ability . . do it well." Read Romans 12:6-8 NLT. Remember, the key to doing all you can is trusting all you have into God's hands. The saddest thing at the close of a day, a year, or a lifetime, is to regret not doing all you could when you could.
My prayer for you is to see God supply all you need and multiply all you have.
Christian Communications 2018-73010
Website and archives: allenrandolph.com
facebook.com/everydaylife.allenrandolph
Devotionals 1 Samuel 17:36-49, David, experience, Goliath, Judges 3:31, Philippians 4:19, resources, Shamgar, skills, Use what you have