Press Into God's Presence
" God alone is my refuge, my place of safety;
He is my God, and I trust Him." Psalm 91:2
My thoughts today are about being , "safe and sound"
A lot of news has been concerning these recent days. At the moment, our cities, states, nation – and vast parts of the globe – are under siege to a frightening virus. Day by day, our news reports rising numbers of people infected, the dilemma of dwindling medical supplies, political leaders at all levels scrambling to know how to protect and provide for our communities.
In fear and panic, people horde necessary supplies to the detriment of their neighbors' needs. Fear grows regarding the unclear days ahead. Selfishness substitutes for the kindness of mutuality and liberality. Fear is never the answer. Jesus said, "Look at the ravens. They don't plant or harvest or store food in barns, for God feeds them. And you are far more valuable to Him than any birds!" Luke 12:24 NLT.
Pushing fear away is a short-term solution because fear always pushes back, intruding into your thoughts and emotions even stronger. Faith in God and His Word is the antidote and only replacement for fear. God's Word and His wisdom are where we turn in such times. I have loved the 91st Psalm for years. There is a wealth of truth in its promises, a richness in its words, and a timeless quality to its truth. This Psalm offers an invitation into an intimacy with God that you can experience in no other way.
Take a few moments to read Psalm 91:1-16.
God is where you are always safe and sound. Glorious promises are reserved for all who press into the presence of God with open hearts and anointed understanding.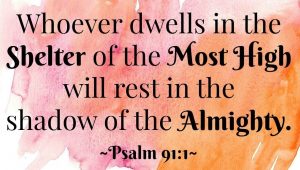 "He who dwells in the secret place of the Most High shall abide under the shadow of the Almighty." Psalm 91:1.
People are always running after something they think they need. Your wants are not synonymous with your needs. Peace of heart and mind comes from distinguishing between those. The Bible is clear but assuring. "Be content with such things as you have. For Jesus Himself has said, "I will never leave you nor forsake you." Hebrews 13:5 NKJ.
God's faithfulness is your assurance of sufficiency. People are always chasing after something they don't have. When they don't find that, they scurry after something else. Always on the go. Always looking for what they want. In an unsafe and unsure world, you can rest under the shadow of the Almighty, in safety and certainty.
The introduction of this Psalm establishes the conditions to the promises that follow. You can claim the promise when you fulfill the premise. God honors His Word and the abiding Truth upon which it rests. You must reside under the shadow of the Almighty.
God's presence is more than a place you occasionally visit. The safe, secret, and sacred place is reserved for those who choose to, "dwell and abide" in His presence. David described the Lord's presence as, "a fortified tower; the righteous run to it and are safe." Proverbs 18:10 NIV. The presence of the Lord is not a physical place into which you rush in and rush out, as you please. His presence is abiding with you, and is to be appropriately revered by you.
"For you are the temple of the living God. As God has said: "I will dwell in them and walk among them. I will be their God, and they shall be My people." 2 Corinthians 6:16 NKJ. Imagine that. God promises to dwell in you and walk alongside you. The more you dwell with God in "the secret place," the more you will, "abide under the shadow of the Almighty."
My prayer for you today is to set doubt aside and hold fast to God's Truth.
———————- A personal note ————————-
My apology for the recent disruption of the EveryDay Life devotionals. I was writing as usual, not knowing that a technical glitch was storing the devotionals but failing to email EDL to the readers – since last September! When a few of you inquired, we investigated and found the problem and it was corrected just a few weeks ago.Those devotionals are now available in the library to read at your leisure at: allenrandolph.com.

With the technical skills I lack, the problem was solved by two tech savvy friends. Thank you, Pete and Troy, for your assistance, technical skills, and your heart for  service and this ministry. Without Pete, EDL would be limited to a handful of emails I was sending to our granddaughter, family, and and a few friends. Without Troy, EDL would not be looking toward the future. Those unsent devotionals are now available in the EDL archives for you to search by date. keyword, or Bible verse.
May I ask you two favors? Would you extend the reach of EDL by sharing and recommending to a few friends? And I would appreciate a brief note of  how you found out about EDL and how the devotionals have been useful for you.

EDL Communications 2020
Website and Archives: allenrandolph.com
Facebook.com/everydaylife.allenrandolph