For His Name's Sake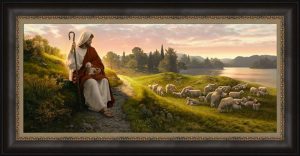 My thoughts today are that we are, "restored and righteous."
"The Lord is my shepherd . . .3 He restores my soul;
He leads me in the paths of righteousness for His name's sake."
Psalm 23:3.
Today, we look a little further into our devotional study of David's Psalm 23. 3 "He restores my soul; He leads me in the paths of righteousness for His name's sake." The world can be a wearying, worrying place. Without a Savior, it is a broken world where up is down and down is up, good is bad and bad is good, and truth is false and false parades as truth.
This simple, single verse describes three primary truths about the Shepherd's righteous character and conduct: (1) what the Good Shepherd does, (2) where the Good Shepherd leads, and (3) why the Good Shepherd does so.
Righteousness seems to be devalued until it is absent. When you embrace the Lord as your Shepherd, He will lead you to the right paths, the paths that bring you to Him and brings His peace and blessings to you.
Recovery and restoration of righteousness are the first goal of salvation. Righteousness is restored when the Savior brings you back from your misadventure. That is why He is my Shepherd and wants to be yours.
The prophet Isaiah wrote, "All of us, like sheep, have strayed away. We have left God's paths to follow our own. Yet the Lord laid on Him the sins of us all." Isaiah 53:6 NLT. The Bible is clear about our lostness and about the Good Shepherd's grace. We are sinners who cannot redeem ourselves. But the Good Shepherd can and will redeem us from our sinful nature and behavior.
Jesus reasoned, "If a man has a hundred sheep and one of them gets lost, what will the shepherd do? Won't he leave the ninety-nine others and go to search for the one that is lost, until he finds it?" Luke 15:4 NLT. The correct answer is clear. Of course, He will seek for the lost. A good shepherd will never abandon the sheep in His care. Jesus, the Good Shepherd will lay down His life for the sheep. You and I have been that lost sheep and find ourselves safe and secure in His loving care.
He will lead you in the paths of righteousness for His Name's sake. Think about that before you read on. His reputation rests on leading you to the path of righteousness. Then, would the Savior not provide for your needs and safety now as well?  Each of us are that wandering sheep. And our Savior is the faithful Shepherd, Who sought us where we had wandered and restored us to fellowship with His Father.
And what was the Shepherd's purpose? My Shepherd recovers we who were lost and restores us from the inside out. 3"For everyone has sinned; we all fall short of God's glorious standard. 24 Yet God, in His grace, freely makes us right in His sight. He did this through Christ Jesus when He freed us from the penalty for our sins." Roman 3:23-24 NLT. Our Shepherd and Savior restores us to the Father, and the indwelling Holy Spirit Who  enables you to walk in new paths of His righteousness.
Grace will persuade you what God has done and will do, and then you will live with new confidence and courage. Paul said, 17"So that Christ may dwell in your hearts through faith. And I pray that you, being rooted and established in love, 18 may have power, together with all the Lord's holy people, to grasp how wide and long and high and deep is the love of Christ, 19 and to know this love that surpasses knowledge – that you may be filled to the measure of all the fullness of God." Ephesians 3:17-19 NIV.
And why does the Good Shepherd do all of this? David was clear and certain. "He leads me in the paths of righteousness for His name's sake." Everything Jesus does is consistent with who Jesus is.
My prayer for you today is to rest in the certainty and security of Jesus' love.
EDL Communications 2020
Website and Archives: allenrandolph.com
Facebook.com/everydaylife.allenrandolph