SECURE IN HIS CARE

My thoughts today are about being, "secure in His care"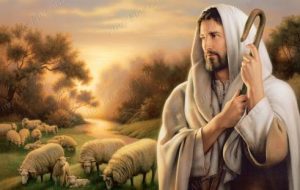 1 "The Lord is my shepherd. I shall not want.
2 He makes me to lie down in green pastures; He leads me beside the still waters.
3 He restores my soul; He leads me in the paths of righteousness For His name's sake.
4 Yea, though I walk through the valley of the shadow of death,
I will fear no evil; For You are with me; Your rod and Your staff, they comfort me.
5 You prepare a table before me in the presence of my enemies.
You anoint my head with oil; My cup runs over.
6 Surely goodness and mercy shall follow me All the days of my life;
And I will dwell in the house of the Lord Forever." Psalm 23:1-6.
Psalm 23 is the beautiful and beloved Shepherd's Psalm. Take time to prepare your heart by carefully and prayerfully reading David's Psalm each day. Write down the thoughts the Holy Spirit brings to your understanding and meditate on them. As you read this forever beautiful Psalm, what the Holy Spirit speaks into your heart is more important than my comments about the Psalm.
This psalm is brief, a mere six verses. Welcome the Holy Spirit to open your heart and understanding to the beauty, truth, and power of David's psalm. Read thoughtfully as though for your first time. Allow the beauty of the words and the power of its truth saturate your mind and invigorate your spirit.
Daily life has been disrupted in ways we could never have foreseen. The surprising speed and spread of this worldwide virus challenged a lot of our former assumptions about personal safety and well-being. Assumptions and expectations have been shaken, some even shattered. You will feel safe when you live secure in Christ. In Him, we are saved and safe, "hidden with Christ in God." Read Colossians 3:2-4 NKJ.
Let us look at the healing truths of the Shepherd's psalm. We will begin where David began. 1"Because the Lord is my Shepherd, I have everything I need!" There is neither shortages nor scarcity of peace and provision. There is completeness and real satisfaction in Jesus. At the heart of this Psalm, you will find a personal, intimate relationship with the Good Shepherd and His unfailing supply of your daily needs. In Jesus' care, you find security and satisfaction.
Paul reasoned, "He that spared not His own Son, but delivered Him up for us all, how shall He not with Him also freely give us all things?" Romans 8:32 NKJ. That is not debatable. You need neither to doubt nor dispute your Heavenly Father's love when He forever proved His love at Calvary? "For God so loved the world that He gave His own Son that whoever believes in Him would not perish but have everlasting life." John 3:16.
Your journey of faith begins when the Holy Spirit reveals the Savior to you. Jesus said, 4"I am the Good Shepherd . . and I lay down My life for the sheep." John 10:11. Elsewhere in Scripture, Jesus is also called the Chief Shepherd, 1 Peter 5:4; and the Great Shepherd, Hebrews 13:20-21. But I love the 23rd Psalm which assures me that He is My Shepherd. You grow in Christ and embrace His community of Saints when you discover the gift and eternal joy we all share; Jesus is Our Shepherd. As the Bible says, "For He is our God. We are His sheep, and He is our Shepherd." Psalm 95:7 TLB.
Psalm 23 is about the loving relationship between the Shepherd and His sheep. David, a shepherd from his youth, writes this Psalm from the perspective of the sheep. That is how Psalm 23 needs to be read and reflected upon. Sadly, Isaiah wrote, "We all, like sheep, have gone astray, each of us has turned to our own way; and the Lord has laid on Him the iniquity of us all." Isaiah 53:6 NIV. What foolish sheep we often are.
Sheep are among the most vulnerable of animals, defenseless to predators when separated from their shepherd. Without Christ you do not feel safe, because apart from the Good Shepherd, you cannot be safe. 2"Set your mind on things above, not on things on the earth. 3 For you died, and your life is hidden with Christ in God." Colossians 3:2-4 NKJ. In Christ Jesus, you are safe and sound, now and throughout eternity.
Nothing confusing or complicated about that. He is God. We are Sheep. He is our Shepherd who laid down His life for us. We are the sheep of His pasture. God alone is the firm foundation for your soul, now and eternally.
27"M sheep hear My voice, and I know them, and they follow Me. 28 I give them eternal life, and they shall never perish; neither shall anyone snatch them out of My hand." John 10:27-28. At the end of this life, you have a beautiful future awaiting if you receive Jesus as your Lord and Savior today.
My prayer for you today is that you always live close to the Shepherd.
EDL Communications 2020
Website and Archives: allenrandolph.com
Facebook.com/everydaylife.allenrandolph